The Creator has minimum configuration, but you can find the config option from the top menu.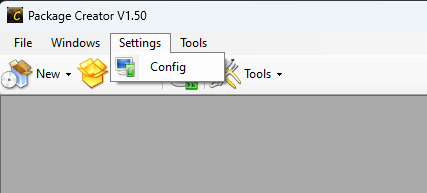 This will open the configuration dialog.

Game Directories
The game directories allow you to add game directories to read various data from. This is useful mainly when creating/editing ships as it will load all the game data and texts.
A game directory setting is not really needed for basic packages however.
Right click on the game directory for additional options.
Automatically Generate Update Files when saving packages
This option will create the update data files whenever you create/save a package. This update file contains the package information that can be used for auto updating. This file needs to be added to the download server alongside the package file.